Mission Statement:
Helping churches make disciples to reach the world with the Gospel of Jesus Christ.
People: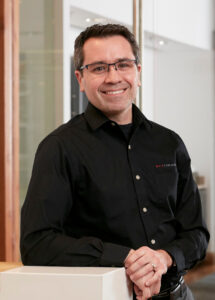 Andrew P. Kulp
Founder and Director
Andrew is the Founder and Director of BuildingChurch Ministries. He has served as a Small Groups Pastor, Discipleship Coordinator, worship leader, deacon, and numerous other roles in local churches. Andrew is a Certified Church Consultant and a registered Architect in multiple states. He has over 25 years of experience in architecture. He is currently the Senior Architect and Team Leader for Church Architecture at Chapman Sisson Architects in Huntsville, Alabama.
He is married to Emily, and together they have three children. They recently relocated to Huntsville from Baltimore, Maryland. In the Baltimore area, they were members of Perry Hall Baptist Church, where Andrew also served as a Deacon. The family is currently in the process of evaluating local churches in the Huntsville area to plug-in and invest their lives.
Andrew has a B.S. in Architecture from Auburn University and an M.Div. in Missions, Evangelism, and Church Growth from the Southern Baptist Theological Seminary, Billy Graham School.